What's On
Click to see what's on in these sections
| | | |
| --- | --- | --- |
| (Un)true Colours: Secrets and Lies in Japanese Cinema- Experience Japan through Cinema | | |
The Japan Foundation Touring Film Programme returns this year with 16 fantastic Japanese films, at 18 venues nationwide, offering an all-encompassing introduction to Japanese cinema through the theme of 'secrets and lies'.
The screenwriter of 'Gukoroku:Traces of Sin', Kosuke Mukai, will appear at ICA (London), Watershed (Bristol) and Macroberts Art Centre (Stirling); and Masahiro Motoki who stars in 'The Long Excuse' will attend a Q&A after its screening at London ICA.
| | |
| --- | --- |
| Date: | 2 February 2018 - 28 March 2018 |
| Venue: | Nationwide |
For full details of the lineup and participating venues, please visit the Japan Foundation Touring Film Programme website.
| | | |
| --- | --- | --- |
| A Talk by Yu Irie- Memoirs of a Murderer Director | | |
The Japan Foundation is delighted to invite director and screenwriter, Yu Irie. Irie began his career making short films, but is best known for directing his adaption of Jung Byoung Gil's original gripping thriller, Memoirs of a Murderer (2017). Known to many as a director who does not conform to a set formula, he has established himself as a filmmaker with an impressive and diverse filmography, ranging anything from comedies to thrillers.
His other films include, 8000 Miles (a.k.a Saitama Rapper) (2009), which earned him the grand prize in the Off Theatre Competition at the Yubari International Fantastic Film Festival and the Directors Guild of Japan New Directors Award, and his most recent work, Vigilante (2017), a dark family drama which focuses on sibling rivalry.
As part of the Japan Foundation Touring Film Programme, in which Memoirs of a Murderer is included, director Irie will be in conversation with Kate Taylor (Film Programmer at BFI London Film Festival) and will talk about the behind the scenes of creating this blockbuster film, as well as illustrate his other works and career to date. Irie will also discuss the mission as a film director, reflecting the current mode of Japanese and global cinema industry.
| | |
| --- | --- |
| Date: | 24 March 2018 from 3.00pm |
| Venue: | Soho Hotel, Screening Room 1, 4 Richmond Mews, Soho, London, W1D 3DH |
Booking:
This event is free to attend, but booking is essential. To book your place via Eventbrite, please visit: https://yuirietalk.eventbrite.co.uk
Yu Irie will also be attending a Q&A after the screenings of Memoirs of a Murderer at Showroom, Sheffield, from 6.00pm on 22 March; Broadway, Nottingham from 6.30pm on 23 March; and Queen's Film Theatre, Belfast from 3.00pm on 25 March. To find out more please visit: http://www.jpf-film.org.uk/
| | | |
| --- | --- | --- |
| Rie Nakajima - Cyclic | | |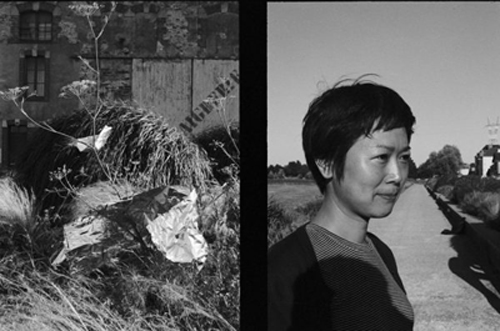 Rie Nakajima, photograph by Greg Pope
A captivating exhibition in which UK based experimental artist, Rie Nakajima fuses sculpture with sound. Best known for her work with sound art, Nakajima often uses a combination of kinetic devices, musical instruments and found objects in direct response to architectural space, and experiments with different mediums in order to probe and raise questions from her audience about the definition of art.
Taking place at Ikon Gallery, Birmingham, the exhibition will consist of entirely new work and includes a number of collaborative performances with other artists. This also includes a series of free performances such as her music project O Yama O, with Keiko Yamamoto which explores music with no genre and various other collaborations consisting of dance, free sculpture and much more.
| | |
| --- | --- |
| Date: | 21 March 2018 - 3 June 2018 |
| Venue: | Ikon Gallery, Birmingham |
For more information, please visit: https://www.ikon-gallery.org/event/rie-nakajima/