What's On
Click to see what's on in these sections
| | | |
| --- | --- | --- |
| Talk: Kengo Kuma on architecture and Identity | | |
As his first UK building nears completion, acclaimed Japanese architect Kengo Kuma will speak about architecture and identity, exploring the relationship between place, building tradition and landscape. Opening in September 2018, The V&A Dundee is set to redefine the identity of the city and build upon its status as a UNESCO City of Design. Kuma will discuss his work in cities around the world, including London and Tokyo, where his National Stadium for the 2020 Tokyo Olympics is under construction.
A public lecture hosted by the London School of Architecture and LSE Cities, in partnership with The Japan Foundation
Date:
23 June 2018 from 6.00pm to 7.30pm
Venue:

Hong Kong Theatre, Clement House, London School of Economics, 99 The Strand, Aldwych, WC2B 4JF


For more information, please click here.
This event is free to attend, but booking is essential. Booking opens on 8 June 2018, and can be done by clicking here.
| | | |
| --- | --- | --- |
| Noh Reimagined 2018: Sublime Illusions | | |
After the success of Noh Reimagined in 2016, we're pleased to accounce its return for 2018 - Noh Reimagined: Sublime Illusions.
This year's edition will showcase Mugen ("phantasmal") Noh - a genre of Noh in which the main actor appears as a ghost in the dream of a travelling monk, who is played by the supporting actor. The ghost then tells the tragic story of its past life, expressing deep regret and lamentations, hoping to find peace through the monk's prayers for it.
Bringing together top Noh performers from Japan with British artists and neuroscientists, join us for this two-day festival, with its interdisciplinary performances, workshops, and talks, to explore time, space, and symbolism in Noh theatre.
Date:
29 June 2018 - 30 June 2018
Venue:

Kings Place, 90 York Way, London, N1 9AG


For more information, please click here.
Curated and produced by mu:arts and International Noh Project Committee, Tokyo, in partnership with Kings Place, Japan Foundation, and the Noh Theatre Research Institute, Hosei University
| | | |
| --- | --- | --- |
| Rie Nakajima - Cyclic | | |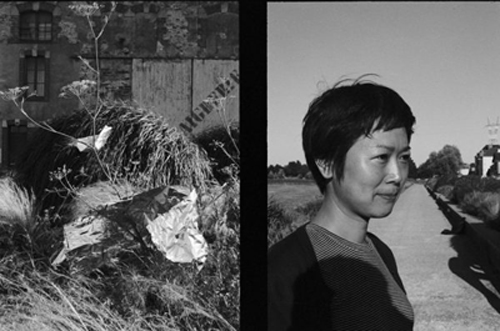 Rie Nakajima, photograph by Greg Pope
A captivating exhibition in which UK based experimental artist, Rie Nakajima fuses sculpture with sound. Best known for her work with sound art, Nakajima often uses a combination of kinetic devices, musical instruments and found objects in direct response to architectural space, and experiments with different mediums in order to probe and raise questions from her audience about the definition of art.
Taking place at Ikon Gallery, Birmingham, the exhibition will consist of entirely new work and includes a number of collaborative performances with other artists. This also includes a series of free performances such as her music project O Yama O, with Keiko Yamamoto which explores music with no genre and various other collaborations consisting of dance, free sculpture and much more.
| | |
| --- | --- |
| Date: | 21 March 2018 - 3 June 2018 |
| Venue: | Ikon Gallery, Birmingham |
For more information, please visit: https://www.ikon-gallery.org/event/rie-nakajima/